Encoder Spare Plate
22.00 € inc. Vat
11 000 DISRUPTIVE-c20f7c tokens
Have you lost or broken your KryptoDots Encoder plate? Don't you worry, we got you covered! You can order here a brand new one. Remember: you can always print and use to recover your words, the digital KryptoDots Encoder layout we sent when you ordered KRYPTODOTS Backup Kit. You earned your title: The serious puncher.
The Encoder Plate helps you to properly mark and punch/engrave the dots into the Base Plates. Also helps you to decode an already marked Base Plate.
When you first use a hardware, mobile or desktop wallet you have to configure it. The first thing your wallet is requesting when initializing, is to write down the backup phrase of your new wallet. This phrase consists of 12 to 24 words, depending on the type of wallet.
Your wallet will indicate that you must write the words on a sheet of paper. This is safer than storing your words digitally, but water, condensation, heat and age can pose a real danger to your precious piece of paper. Using the KRYPTODOTS you store your backup words in an almost indestructible high grade stainless steel medium. You can be sure that your backup words can last many decades from now on.
All the components that are provided in the KRYPTODOTS Backup Kit make it really easy to encode and engrave your words – see tutorial.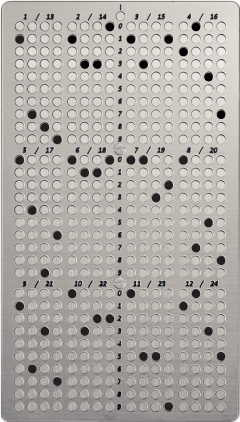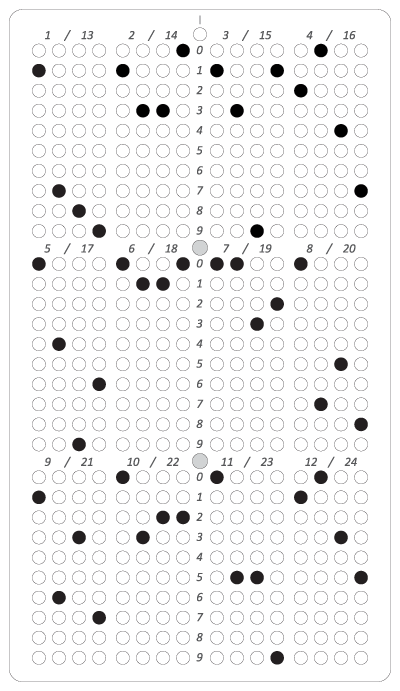 How does the KryptoDots Encoder plate works?
Each group of 4 by 10 holes delimits 12 zones, where you will encode the numbers converted, from your mnemonic phrase (seed). The numbers can be from 1 digit long to maximum 4 digits long, meaning that you can theoretically mark any number from 0 to 9999.
Each zone is named on top with numbers from 1 to 12 (representing one side of the metal plate) respectively /13 to /24 (representing the other side of the metal plate). You can encode up to 24 words on a plate (12 words per side).
The markings from 0 to 9, positioned in the center of the encoder will help you to position the digits for each number correctly. The columns within the zones (4 columns) represent the digit position within the number.
The center top hole is an indicator hole. Through this hole you can mark one of the two sides, so you know which one is 1st or 2nd side.
The punching/marking will be done with the encoder and the metallic base plate firmly attached with the 2 screws and 2 nuts.
KryptoDots Encoder Spare Plate – Specifications
| | |
| --- | --- |
| KryptoDots Encoder Plate dimensions | 7.5 x 13.2 x 0.1 cm |
| Number of Encoder Plate | 1 |
| KryptoDots Encoder Plate weight | 8 grams |
| Material | Metallex / ABS / Plastic |
| Compatibility Harware wallets | Ledger, Trezor, KeepKey, Exodus, and many more |
| Compatibility Mobile/Desktop wallets | Mycelium, Jaxx, Electrum, Atomic Wallet, and many more |
Only logged in customers who have purchased this product may leave a review.
Other items you may need for your KRYPTODOTS Backup Kit