MDF Spare Case
€ 24.00
Punched it really hard? We understand… you wanted to be sure that your words are really marked on the Base Plates. It's OK! Here you can buy spare MDF case to complete your KRYPTODOTS Backup Kit. You earned your title: Sir Punch-a-Lot.
The MDF Case is an engineered medium-density fiberboard product designed to be a transport case for all the KryptoDots Kit items and also to stabilize and fix in place the Encoder and the metallic Base plates for the marking process.
Why use KryptoDots MDF Case?
To properly mark the dots on the Base plates it is very important to use the KryptoDots MDF Case. The KryptoDots MDF Case is designed to properly accommodate the Encoder and Base plates attached together with the screws and nuts providing you a flat, stabilized and shock-absorbing surface.
Kryptodots MDF spare case – Specifications
| | |
| --- | --- |
| KryptoDots MDF Case dimensions | 11.5 x 15.5 x 1.8 cm |
| KryptoDots MDF Case weight | 200 grams |
| Material | MDF |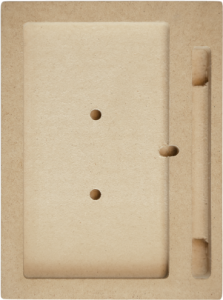 Only logged in customers who have purchased this product may leave a review.
Other items you may need for your KRYPTODOTS Backup Kit