Nano X + Kryptodots free
149.00 € inc. Vat
Please specify in the Order notes which Kryptodots edition you want to receive: Standard or Special Elrond Edition.
This bundle package contains one Ledger Nano X + one KRYPTODOTS Backup Kit. This bundle can protect you from all the disasters nature can throw at you by combining the best level of protection a hardware wallet can offer with the best offline backup device out there, for your assets' security.
The KRYPTODOTS Backup Kit is developed to encode and permanently store your recovery seed in the smartest, most accurate and safest way there is. The patented system consists of all the components that you need to store your crypto in one complete package.
The Ledger wallet can help you start your crypto journey: buy crypto, secure your assets and manage them in one single-app.
Kryptodots EAN/GTIN: 5949096249014
Ledger Nano X EAN/GTIN: 3760027781517
How does the KRYPTODOTS work?
When you first use a hardware, mobile or desktop wallet you have to configure it. The first thing your wallet is requesting when initializing, is to write down the backup phrase of your new wallet. This phrase consists of 12 to 24 words, depending on the type of wallet.
Your wallet will indicate that you must write the words on a sheet of paper. This is safer than storing your words digitally, but water, condensation, heat and age can pose a real danger to your precious piece of paper. Using the KRYPTODOTS you store your backup words in an almost indestructible high grade stainless steel medium. You can be sure that your backup words can last many decades from now on.
You can engrave the words into the KRYPTODOTS by converting your backup wallet phrase and punching the dots into base plate using the encoder plate. All the components that are provided in the KRYPTODOTS Backup Kit make it really easy to encode and engrave your words – see tutorial.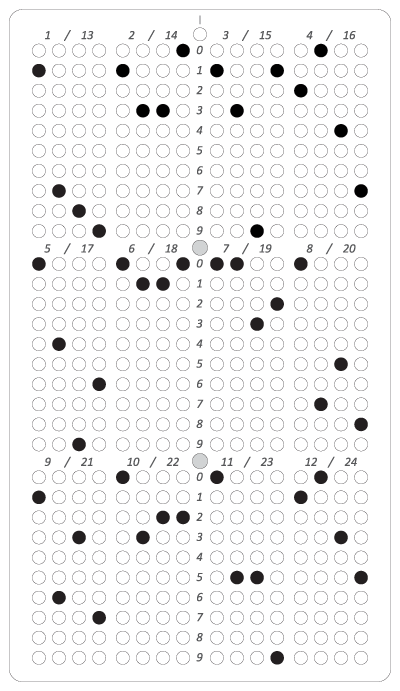 Multiple backups or counter-punch option
The KRYPTODOTS Backup kit contains 1 encoder plate and 2 base plates. On every KRYPTODOTS base plate you can engrave 24 words (12 words per side). This means that you can engrave a total of 48 words using KRYPTODOTS Backup Kit. If you choose to use the spare plate as a counter-punch, it's up to you if you decide to use it to engrave another set of words, this decision mostly depends on the traces degree left on the surfaces of the base spare plate.
The Elrond web wallet / Maiar app or Ledger and Trezor hardware wallets use 24 backup words as standard. This means that with one KRYPTODOTS Backup Kit, you can make a backup of two wallets. If you have more wallets, you can easily buy extra KRYPTODOTS base plates – see Base Plates sets.
KRYPTODOTS Backup Kit – Specifications
| | |
| --- | --- |
| KryptoDots Backup Kit package dimensions | 15.5 x 11.7 x 2.0 cm |
| KryptoDots Backup Kit package weight | 695 grams |
| Number of base plates | 2 |
| KryptoDots Base plate dimensions | 7.5 x 13.2 x 0.02 cm |
| KryptoDots Base plate weight | 156 grams |
| Number of backup words | 48 words (2 x 24 words) |
| Material | type 304 stainless steel satin finish |
| Heat resistence | 1400 °C | 2552 °F |
| Compatibility Harware wallets | Ledger, Trezor, KeepKey, Exodus, and many more |
| Compatibility Mobile/Desktop wallets | Elrond / Maiar, Mycelium, Jaxx, Electrum, Atomic Wallet, and many more |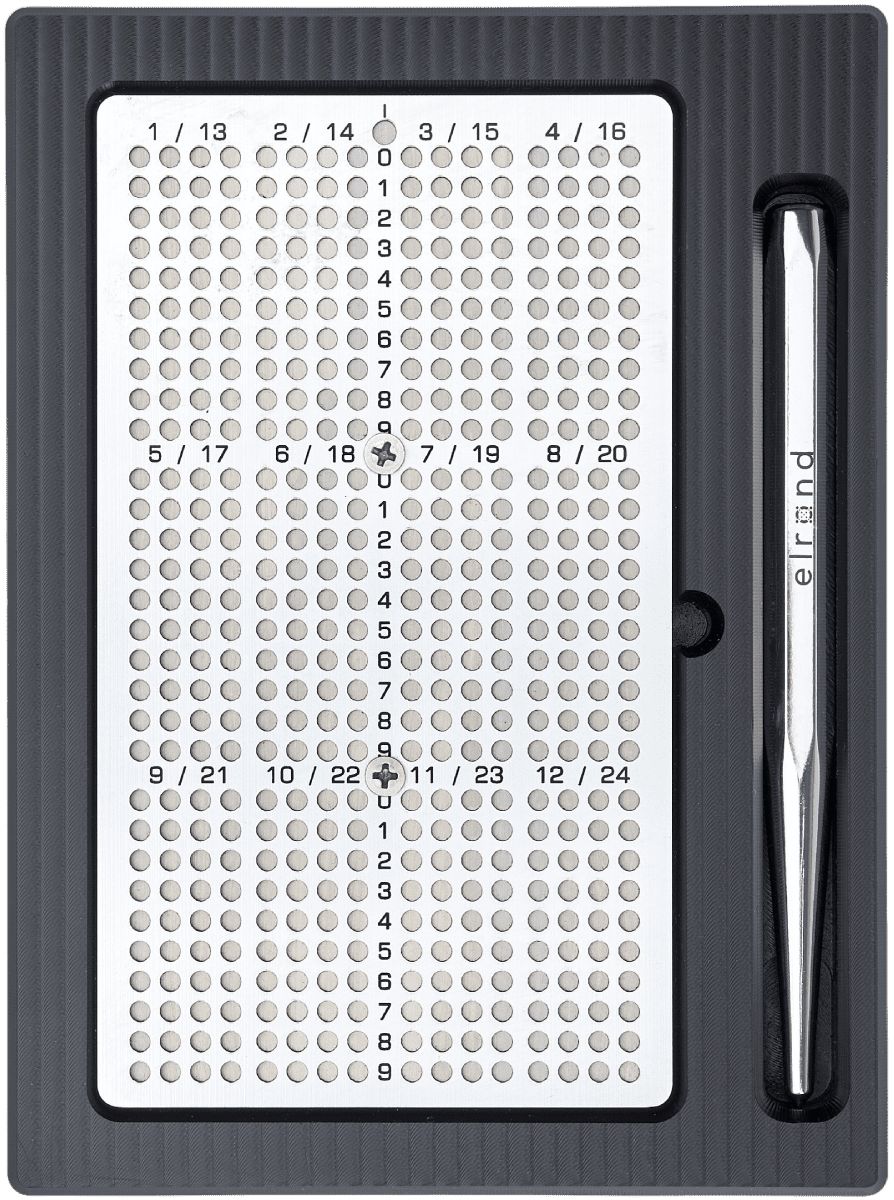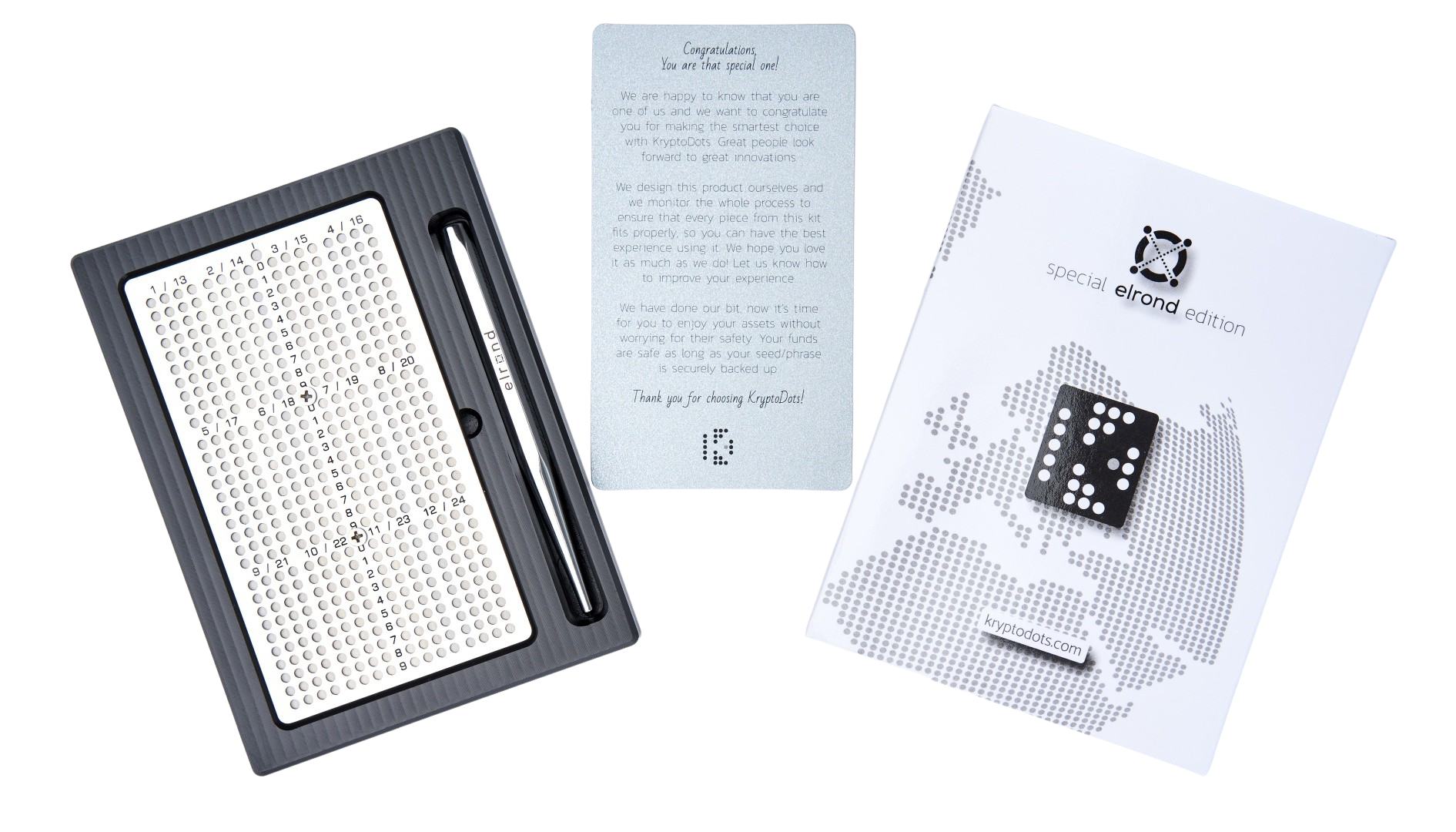 KryptoDots Backup Kit Package list
2 x Base plates
1 x Encoder plate
1 x Center Punch
2 x Screws & 2 x Nuts
1 x Plastic case
1 x bip39 English wordlist
1 x Basic Instructions & Thank you note
Why to use Ledger hardware wallet?
When you own crypto, what you really own is a private key – you need to secure it. Ledger offers the best level of protection: your key remains protected in a certified secure chip. 2 BUTTONS, 1 SCREEN – to verify any transaction | CC EAL5+ – Certified Secure Chip | BOLOS – Proprietary operating system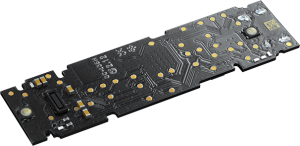 Manage your crypto with Ledger Live
Be in charge of your crypto with Ledger Live. Buy and Securely Manage 27 coins & more than 1500 tokens from your smartphone or computer with Ledger Live.
Securely manage your crypto on-the-go. Connect your Ledger Nano X to your smartphone with Ledger Live and start managing your assets everywhere.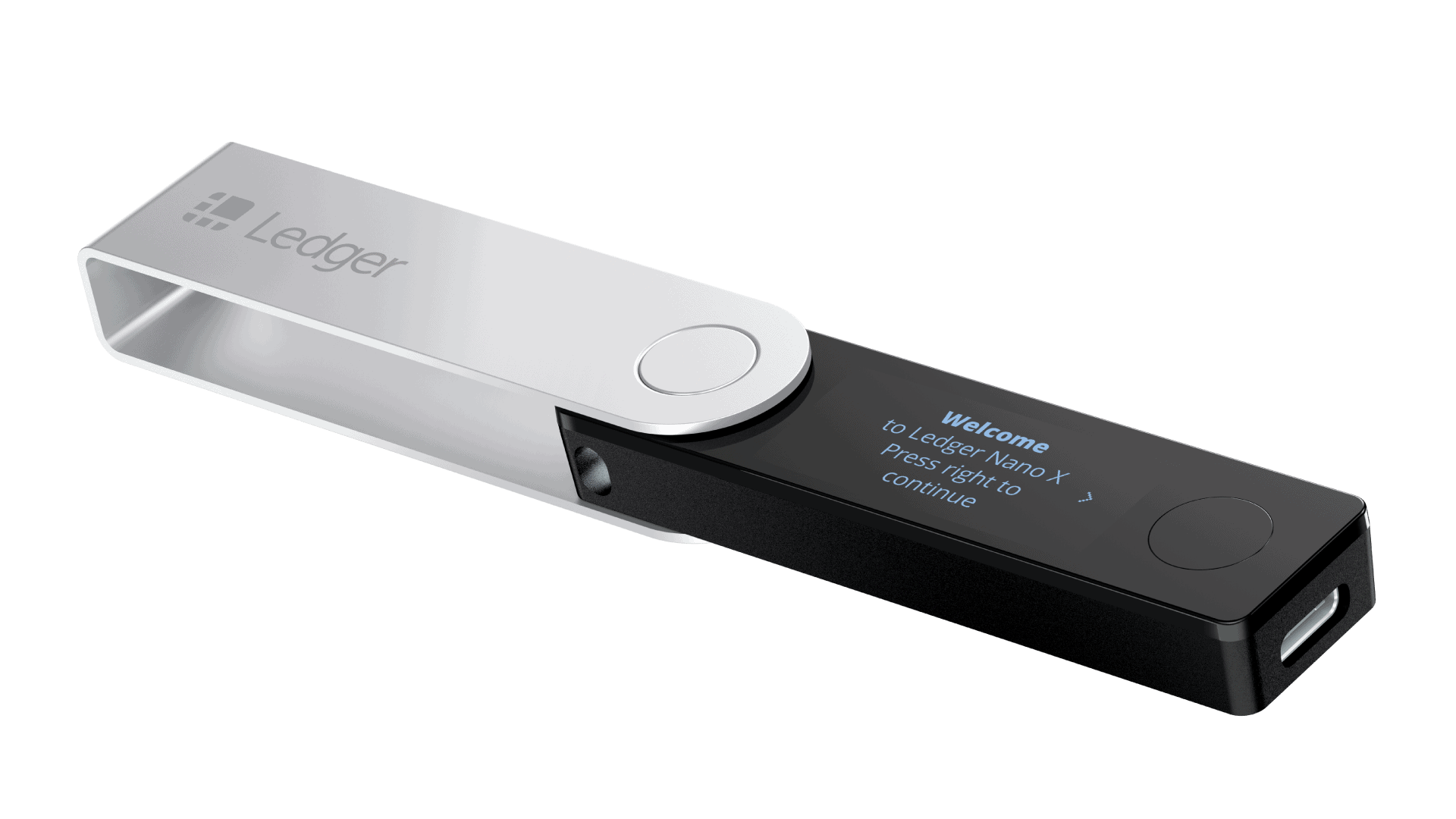 No limit – up to Up to 100 APPS INSTALLED
Install up to 100 crypto applications at the same time on your Ledger Nano X. More than 1500 coins and tokens supported, including Bitcoin, Ethereum, XRP, Litecoin, eGLD (Elrond), and many more…
Size
72×18.6×11.75 mm
Weight
34 grams
Connector
USB Type-C
Certification level
CC EAL5+
Chips
ST31H320 (secure) + STM32F042
Materials
Brushed stainless steel and plastic
Battery
8 hours in standby mode
Bluetooth
Bluetooth® compatibility with Ledger Live Mobile
Compatibility
64-bits desktop computer (Windows 8+, macOS 10.10+, Linux)
excluding ARM Processors.
Also compatible with Android 7+ smartphones.
You will need an OTG kit to connect your Nano S to your desktop or smartphone.
Mining
The device is not suitable for mining. (view more)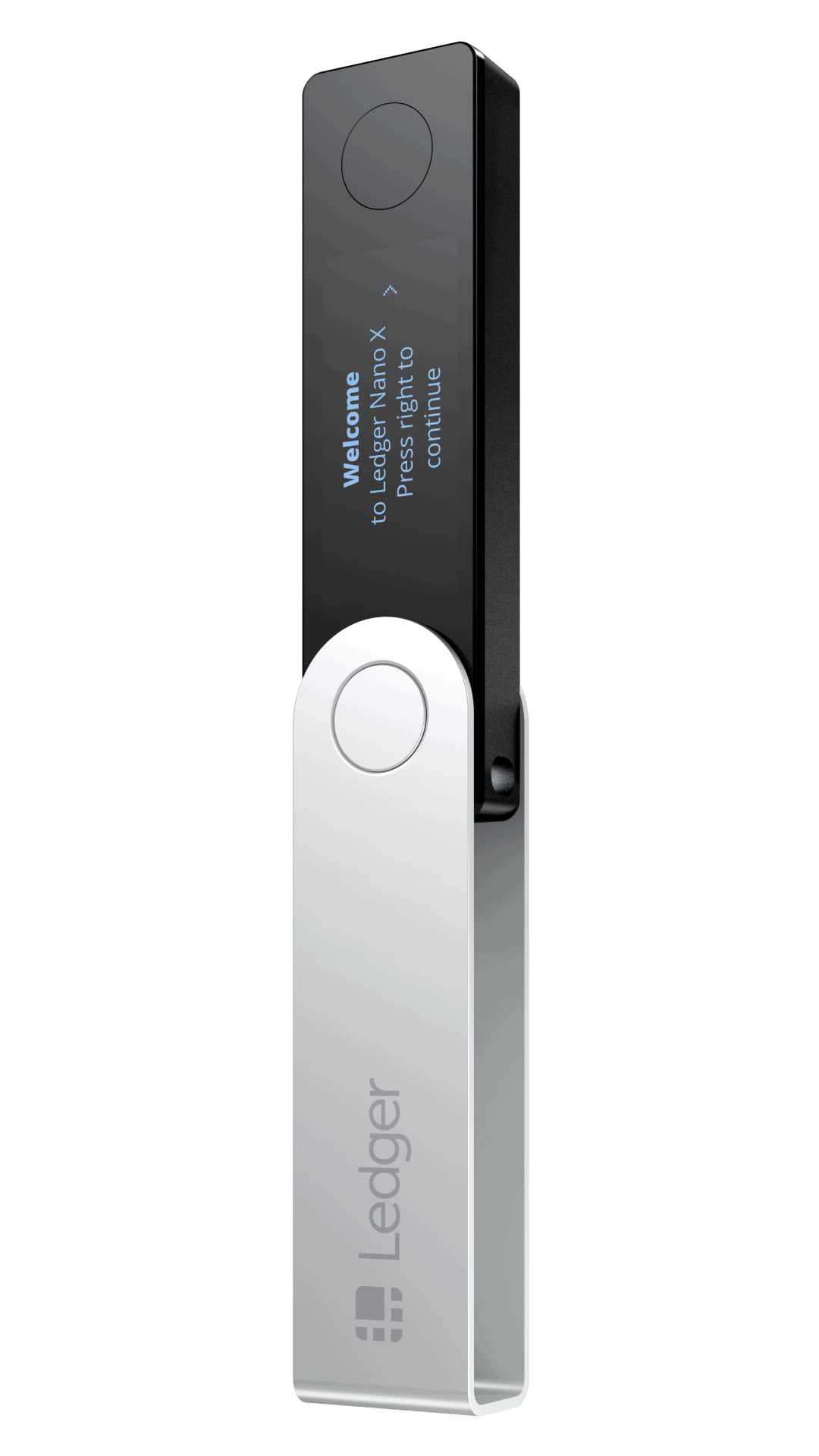 Box content
1 hardware wallet
1 USB cable
Only logged in customers who have purchased this product may leave a review.